Test Cuts with Metal Cutters
Did you know that we make test cuts at our location? Customers send material samples to Original Saw Company. Next, we use our in-house Radial Arm Saw to make cuts on the sample material. Our technician records a video during the cutting process. After that, we send the video to the customer. The customer can evaluate the material and the cut quality before purchasing.
The video below shows our factory's Metal Cutting Radial Arm Saw, making test cuts through aluminum.
This customer has a business in the sign industry. He wanted a bevel cut made on a specific extrusion. By swiveling the motor, we were able to make a clean cut that was 3″-4″ deep.
The test cut saw at our factory features an electronic powered cross feed that enables push button operation of the saw. In additions, pneumatic clamps hold the material in place.
The Metal Cutting Radial Arm Saw series is perfect for sign manufacturers, the billboard and sign industry, awning manufacturers, the curtain wall industry, and many more.
---
EMPLOYEE SPOTLIGHT: DAVE BROWN, CUSTOMER SERVICE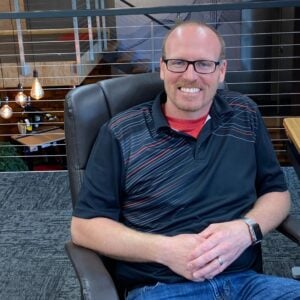 What is your favorite thing to sell? Why?
Metal Cutters for special applications. It is fun to hear and see what our customers are doing in their respective fields and how our machines help simplify and streamline that process.
What do customers ask you most frequently? Customers want to know about the assembly requirements for our saws. They are often relieved to hear that our saws ship fully assembled except for the legs. They also want to know what kind of electrical service is needed. Since our saws come in various voltages, it's always good to know your building's power requirements before the machine ships. Understanding the power requirements allows for proper setup. 
What's the best part of your job?
I enjoy interacting with all kinds of people from all over the place! It is crazy how SMALL the world is!!
---

IWF Connect is Almost Here!
The pandemic has affected everything this year, even IWF Atlanta. Due to the cancellation, the IWF group put together an online option.
IWF Connect is a new way for the woodworking industry to do business. Happening October 26-30, 2020, this online trade show event will bring our industry together for 5 streamlined days of buying, selling, and experiencing new products and trends. Find exactly what you need to advance your business, and interact with exhibitors at your convenience.